Hi~
Yea… I am writing again >.<
I promise myself to update why postwhore about pairing a lot lol
This post will be one of it nyahaha
Its about SayuMai
Do you know SayuMai??
gif credit http://48rush.tumblr.com/post/61683088768
YUP The baka couple :3 fufufufufu
How can it be baka??
Because they are baka! If you see the Nogi on M-ON (the gif above is part of it) and you can find where they started acting like husband & wife or lover XD Its silly, hilarious, and baka enough.
The Baka Couple. It even made into no. 1
Still… okay .__. ❤
Gif credit http://maiichigo.tumblr.com/post/68874983754
They're so cute together!
and….one more thing about them is….they are married already!!! XD
waifu looks so happy 😀
Yep2… big portion for the hardwork daddy 😀
Gif credit http://jun48.tumblr.com/post/62958624765
Ng? do you want more?? YEAH LETS GO FOR SOME MOAR!!!
Oh…..my……god……bless ppl who did this!
gif by maiichigo
I hope they dont mind I post their gifs here ;a;
I always find Maiyan cling onto Ringo's arm (like above) but I am too lazy to find the video and end up using other people's work ;_; buuut I give you credit, so pls dont be mad! I love you all for making these beautiful gifs <3<3
NGGHHHH ;A; ❤
So….
Have you checked Nogi's 1st PB?
Its abunai, you know. It has a lot of SayuMai inside and other members' gayness. You shud check!
I did upload some of it on my old postwhore, maybe you could go and check yourself lol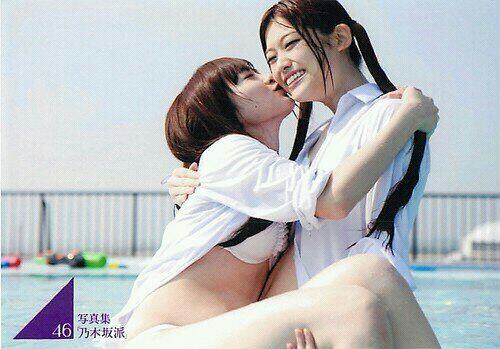 O_O!!
EMERGGGEHHHHDDD ;a; this pic is killing meh! oh lord forgive me!